SOFTWARE OF LIFE™ is a Moderna trade mark for MRNA
- LITERALLY. And they make apps
I'm trying to advance the discussion, but apparently most are still stuck at "these are not even vaccines". Yeah, we knew that the moment we visited a manufacturer's website, which is among the first reasonable things to do. I hope this will help closing that debate and will ease stepping further down the rabbit hole. Watch how many will find out these things from me rather than from the original source!
mRNA doesn't alter DNA?
mRNA is just as critical as DNA.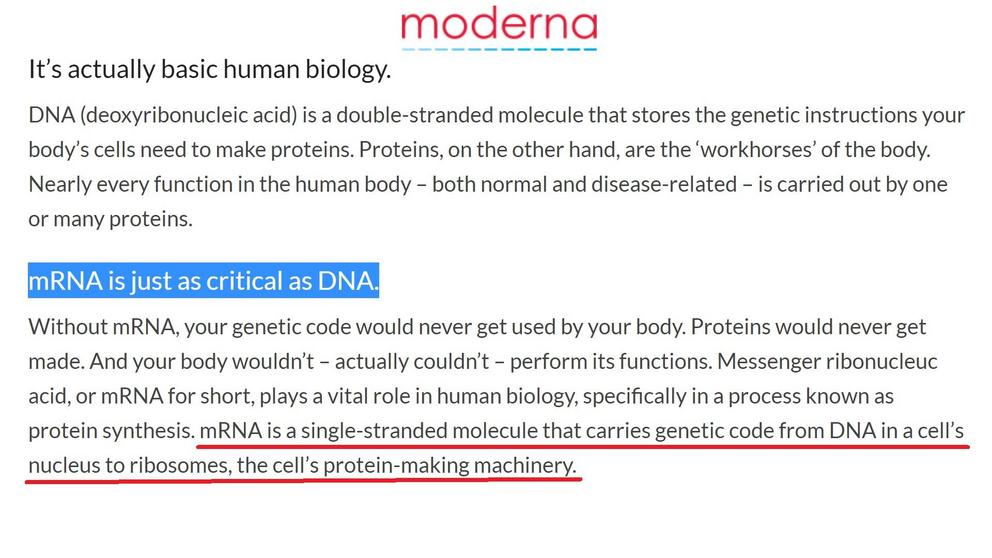 source: Moderna
Without mRNA, your genetic code would never get used by your body. Proteins would never get made. And your body wouldn't – actually couldn't – perform its functions. Messenger ribonucleuc acid, or mRNA for short, plays a vital role in human biology, specifically in a process known as protein synthesis. mRNA is a single-stranded molecule that carries genetic code from DNA in a cell's nucleus to ribosomes, the cell's protein-making machinery.
Our Operating System
Recognizing the broad potential of mRNA science, we set out to create an mRNA technology platform that functions very much like an operating system on a computer. It is designed so that it can plug and play interchangeably with different programs. In our case, the "program" or "app" is our mRNA drug – the unique mRNA sequence that codes for a protein.
We have a dedicated team of several hundred scientists and engineers solely focused on advancing Moderna's platform technology. They are organized around key disciplines and work in an integrated fashion to advance knowledge surrounding mRNA science and solve for challenges that are unique to mRNA drug development. Some of these disciplines include mRNA biology, chemistry, formulation & delivery, bioinformatics and protein engineering.

Our mRNA Medicines – The 'Software of Life'
When we have a concept for a new mRNA medicine and begin research, fundamental components are already in place.
Generally, the only thing that changes from one potential mRNA medicine to another is the coding region – the actual genetic code that instructs ribosomes to make protein. Utilizing these instruction sets gives our investigational mRNA medicines a software-like quality. We also have the ability to combine different mRNA sequences encoding for different proteins in a single mRNA investigational medicine.
We are leveraging the flexibility afforded by our platform and the fundamental role mRNA plays in protein synthesis to pursue mRNA medicines for a broad spectrum of diseases.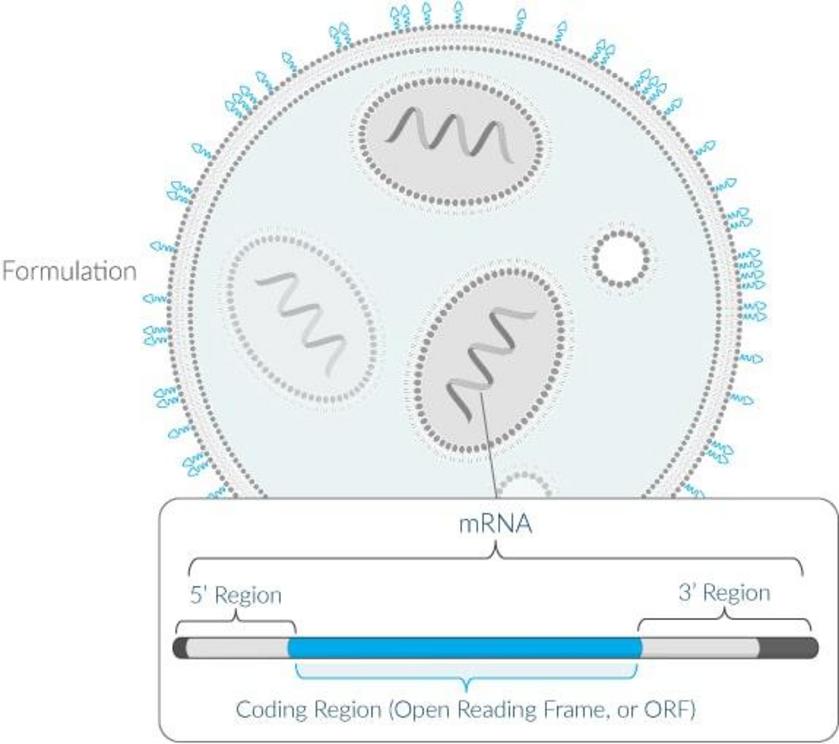 Within a given modality, the base components are generally identical across development candidates – formulation, 5' region and 3' region. Only the coding region varies based on the protein/s the potential medicine is directing cells to produce.
Learn how our Research Engine and Early Development Engine are enabling us to fully maximize the promise of mRNA to meaningfully improve how medicines are discovered, developed and manufactured.
'Life is just a flow of information. And we're interfering with it"
For the rest of this article please go to source link below.