Russia calls for US to end support for ISIS in Syria
MOSCOW – As the Syrian government struggles to stabilize the still-volatile situation within its borders, the United States has continued to drag out the conflict by supporting groups related to the Islamic State (ISIS), Russian Foreign Minister Sergei Lavrov told journalists on Monday.
The pointed comment underscored long-standing allegations by the Russian military that the U.S. continues to justify its presence in Syria and fan the flames of conflict in the country through its control of the lawless region bordering Jordan. Since last April, U.S. Special Forces have been based at the Al-Tanf military base on the pretext of combatting the extremist group.
According to TASS, Lavrov told a press conference in Moscow:
We have gathered much evidence [that] some strange things are happening in Al-Tanf. In our point of view this area is of no considerable significance for the anti-terrorist operation. In practice we can see that in this area, including the Rukban refugee camp, armed groups appear ever more often and, according to our sources, they have connections with the Islamic State."
Russian Defense Ministry officials have claimed that ISIS militants are seemingly given free rein to operate across a vast 100-kilometer zone at the border with Jordan, where they seemingly pop up "like a jack-in-the-box" for ambushes of Syrian government troops before fading back into U.S.-controlled territory.
Much of the activity has allegedly emanated from the Rukban camp, where ISIS extremists have embedded themselves among the tens of thousands of refugees from Raqqa and Deir Ezzor.
Moscow has observed that Washington's expressed concerns about ceasefire violations in Syria are blatantly contradicted by its support of foreign-backed militants across the region.
"We drew attention to the fact that this is in conflict with our agreements as to how to arrange for de-escalation work in Syria within the framework of regular contacts between the military," Lavrov said, noting that the U.S. has largely ignored Moscow and seems to only desire that others simply "sing along and say yes" when it comes to the country.
Moscow expects Washington to take practical steps toward pulling its troops from the Al-Tanf base, given the "pointless" military purpose of their continued illegal occupation of the region, he added.
U.S. President Donald Trump has commented repeatedly that he sees no reason for the U.S. military to remain in Syria once the fight against ISIS has been completed.
The foreign minister added:
As for media reports about the U.S. making plans to withdraw troops from the Al-Tanf area, I have already said that this zone was artificially created for reasons that are difficult to understand from the standpoint of military feasibility […] This is why our Defense Ministry has been drawing our U.S. counterparts' attention to that fact and they seem to be coming to the same conclusion."
Moscow holds secret talks with the Israelis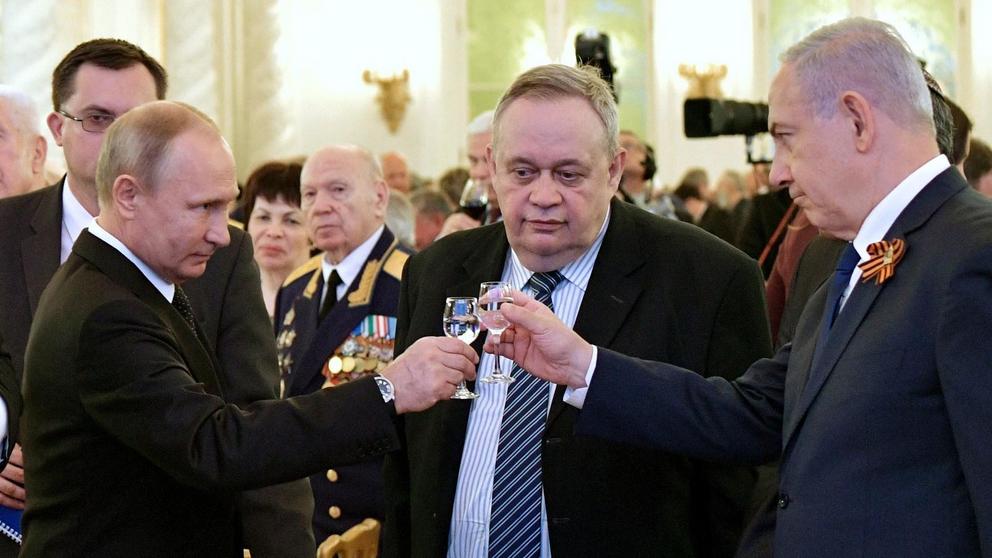 Russian President Vladimir Putin, left, and Israeli Prime Minister Benjamin Netanyahu, right, toast during a reception after the Victory Parade in Moscow, Russia, May 9, 2018. Alexei Nikolsky | Sputnik via AP
Lavrov's comments come amid Israeli press reports that a wide-ranging secret deal between Moscow and Tel Aviv had been agreed upon, which would entail Russia enforcing the pull-back of Iranian troops and Hezbollah militia from the southern Syrian border with the illegally-occupied, Israeli-controlled Golan Heights.
According to The Times of Israel, Tel Aviv would "accept the return of Syrian regime soldiers" to the border in exchange for Russia committing to ensure that the alleged Iranian presence would not be allowed within 25 to 60 kilometers of the border with the illegally-annexed Syrian territory, various reports claim.
Previous Israeli demands for a guaranteed "safe-zone" free of Iran and its allies had largely been shrugged off by the U.S. and Russia.
Yet reports claim this latest deal had been agreed by phone between Israeli Defense Minister Avigdor Lieberman and his Russian counterpart, Sergei Shoigu. Next week, the ultra-hawkish Israeli official is set to visit Moscow, along with various intelligence and defense officials, to continue talks.
An unnamed non-Syrian commander in the alliance backing Damascus told Reuters that the Syrian Arab Army has reached the final stage of preparations to take back the southwest of the country that remains under foreign-backed rebel control. Over the past year, Israeli occupation forces based in the Golan Heights have significantly stepped up their logistical and financial support for at least seven militant factions operating in the region, in hopes to counter the alleged presence of groups aligned with Tehran.
The Israelis have interpreted the Russian statement as an expression of support for their anti-Iranian stance, causing Prime Minister Benjamin Netanyahu to call for the removal of all elements of the Iranian military from the entire country.
"In the end, only Syrian government forces must remain on the country's border with Israel," Lavrov noted, citing the 2017 agreement on establishing de-escalation zones in the area. He concluded:
Of course, the withdrawal of all non-Syrian forces must be carried out on a mutual basis; this should be a two-way street."
As MintPress News reported Saturday, Tel Aviv has also been pushing for Washington to officially recognize Israeli sovereignty over the occupied Golan Heights, which was seized from Syria during the Zionist state's expansionist military campaign of 1967. The strategic, mineral-rich 500 square-mile plateau was subsequently annexed by Tel Aviv in 1981, a move considered illegal under international law.
Top Photo | US and British special forces train Syrian opposition fighters from of the New Syrian Army (NSA) and Jaish Awsoud Al-Sharqiah at an undisclosed site in Jordan. Photo | Al-Masdar)
Elliott Gabriel is a former staff writer for teleSUR English and a MintPress News contributor based in Quito, Ecuador. He has taken extensive part in advocacy and organizing in the pro-labor, migrant justice and police accountability movements of Southern California and the state's Central Coast.