Mass graves expose Canada's church-run rape and murder institutions
215 pairs of tiny shoes are displayed as mass children's grave is found at Catholic Church-run 'Indian residential school' in Canada: PM Justin Trudeau brands it 'shameful' as ex-student recalls how classmates would simply vanish
Remains of 215 children have been found at the site of the Kamloops Indian Residential School in British Columbia in Canada
The remains were found with the help of a ground penetrating radar specialist after long-held suspicions about the fate of missing students
One survivor told how children would suddenly disappear from the school without explanation, and sexual and physical abuse was common
Many of those killed are feared to have died of diseases including tuberculosis, with survivors recalling how they endured physical and sexual abuse
Canada's residential school system forcibly separated more then 150,000 indigenous children from their families from 1863 to 1998
A six-year Truth and Reconciliation Commission into the now-defunct system found in 2015 that it constituted 'cultural genocide'
The latest discovery is the first time a mass burial site has been found and is expected to set of a 'wave of litigation'
Canadian Prime Minister Justin Trudeau has described the discovery as 'heartbreaking'
An artist displayed 215 pairs of children's shoes on the steps of the Vancouver Art Gallery to create a space for 'grief, reflection'
The remains of 215 children, some as young as three years old, have been found buried at a former residential school for indigenous children in Canada.
Those youngsters were students at the Kamloops Indian Residential School in British Columbia that closed in 1978, according to the Tk'emlúps te Secwepemc Nation, which said the remains were found with the help of a ground penetrating radar specialist.
None of them have been identified, and it remains unclear how they died. Survivors fear more bodies will be found at the same site - as well as at the 80 other former residential school sites across Canada.
Canadian Prime Minister Justin Trudeau tweeted his horror at the discovery. He said: 'The news that remains were found at the former Kamloops residential school breaks my heart - it is a painful reminder of that dark and shameful chapter of our country's history.
'I am thinking about everyone affected by this distressing news. We are here for you.'
'It's a harsh reality and it's our truth, it's our history,' Tk'emlúps te Secwepemc Chief Rosanne Casimir told a media conference Friday.
'And it's something that we've always had to fight to prove. To me, it's always been a horrible, horrible history.'
Casimir said they had begun searching for the remains of missing children at the school grounds in the early 2000s, as they had long suspected official explanations of runaway children were part of a cover-up by the state.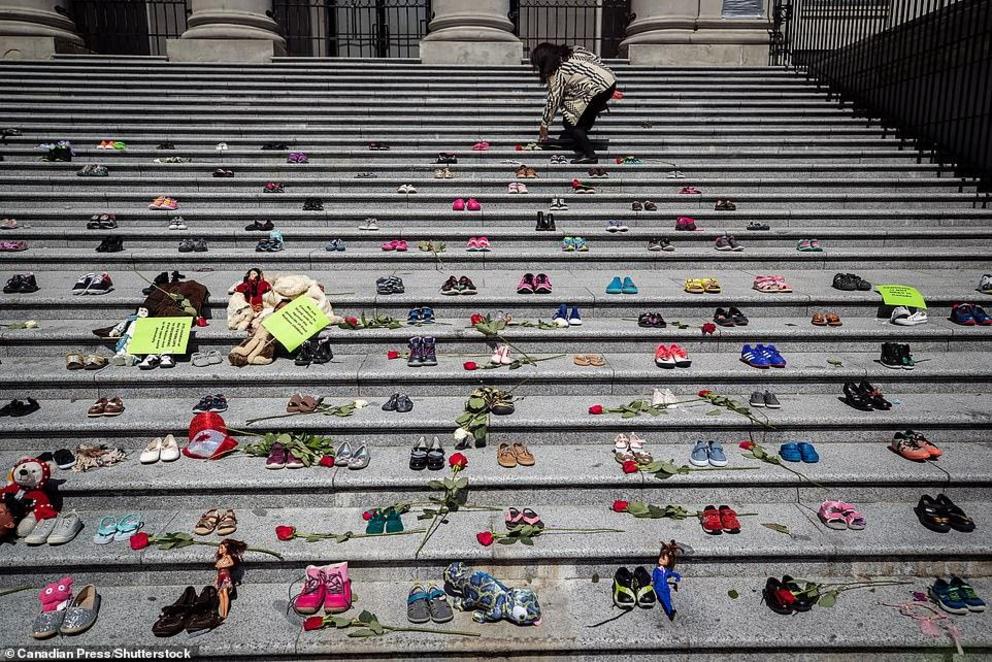 215 pairs of children's shoes are seen on the steps of the Vancouver Art Gallery as a memorial to the 215 children whose remains have been found
For the rest of this article please go to source link below.