Julian Assange's trial has begun: judge warns him not to speak again and remain silent
In Brief
The Facts:

Julian Assange has been warned by the judge in his extradition case that he could be removed from court with the case continuing in his absence after he interjected while a lawyer for the US sparred with a high-profile witness in favour of assange.

Reflect On:

Why do people like Julian Assange and Edward Snowden face such a harsh backlash from Governments? If governments and elite corporations aren't doing anything wrong, what do they have to hide? Why are the censoring so much information?
What Happened: Julian Assange's legal battle to avoid US extradition to the United States for leaking classified information has begun. The latest news is that "English judge Vanessa Baraitser warns the most famous publisher/journalist in the world – Julian Assange, tortured by UK authorities according to the UN – not to speak again or be removed entirely from the court and be tried for his life in his absence," according to Afshin Rattansi, a British broadcaster, journalist and author.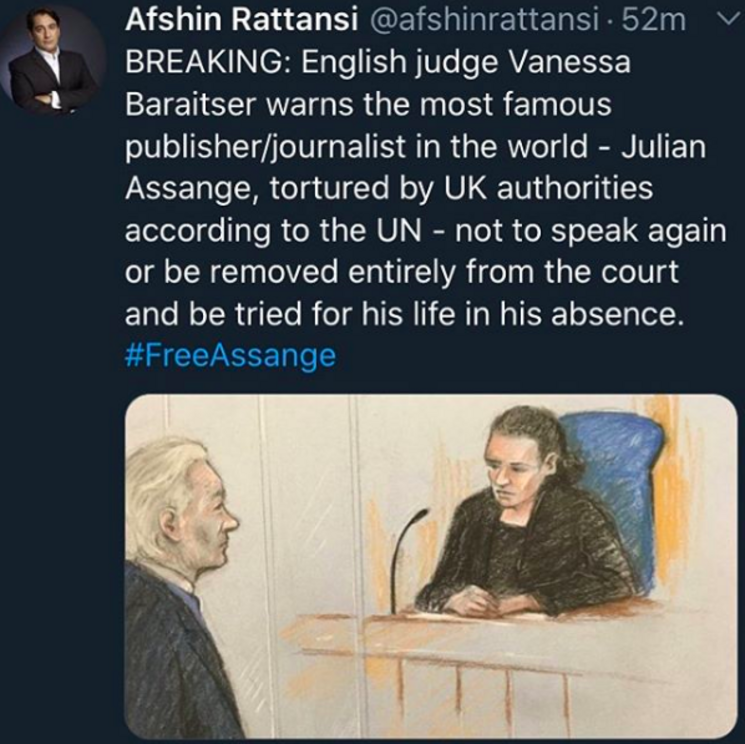 Over the years Assange has faced a number of smear campaigns and character assassinations that have been debunked, when in reality there are so many 'high profile' people around the word that support him and see quite clearly what is going on.
According to The Guardian, "Julian Assange has been warned by the judge in his extradition case that he could be removed from court with the case continuing in his absence after he interjected while a lawyer for the US authorities sparred with a high-profile witness giving evidence in support of the WikiLeaks founder."
I suggest you visit The Wikileaks Instagram Page for more the most recent and accurate updates.
Why This Is Important: Most of the world knows why they hunted him, and why he's been treated the way he's been treated and tortured in prison. The same goes for people like Edward Snowden, it's because they expose lies, corruption, deceit, immoral and unethical actions that their own governments, as well as governments around the world have participated in. He exposed these characteristics that seem to represents the backbone of the Western military alliance and the American empire. He exposed, in the words of John F. Hylan, former Mayor of New York City, the "real menace of the Republic", the "invisible government, which like a giant octopus sprawls its slimy legs over our cities, states and nation." He exposed the ones "who virtually run the United States government for their own selfish purposes." (source)(source)
"National Security" has become an umbrella tool to protect a number of unethical and immoral actions by governments, big corporations as well as those that take place in the world of finance.
How far have we sunk if telling the truth becomes a crime? How far have we sunk if we prosecute people that expose war crimes for exposing war crimes? How far have we sunk when we no longer prosecute our own war criminals? Because we identify more with them, than we identify with the people that actually expose these crimes. What does that tell about us and about our governments? In a democracy, the power does not belong to the government, but to the people. But the people have to claim it. Secrecy disempowers the people because it prevents them from exercising democratic control, which is precisely why governments want secrecy. – Nils Melzer, Human Rights Chair of the Geneva Academy of Int Humanitarian Law and Human Rights, Prof of Int Law at the University of Glasgow, UN Rapporteur on Torture and Other Inhumane or Degrading Treatment or Punishment.
Wilikleaks has never had to retract a single story.
Politics has become a cesspool of corruption, and it's now corporations and big banks that seem to dictate political policy. What we are presented with on our TV when it comes to geopolitical issues and war is far different from what's happening in reality, and this is what Julian Assange made evident. Whether it's the funding, arming and creation of terrorist organizations like ISIS or Al-Qaeda by our governments, creating problems so they can propose the solutions, or documents showing the influence Big Pharma has on global health policy, obtaining this information and using it to inform the public is not a "threat" to the people, it's a threat to to the people in power. These people in power are using "national "security as they always due to justify the locking Assange up for the rest of his life.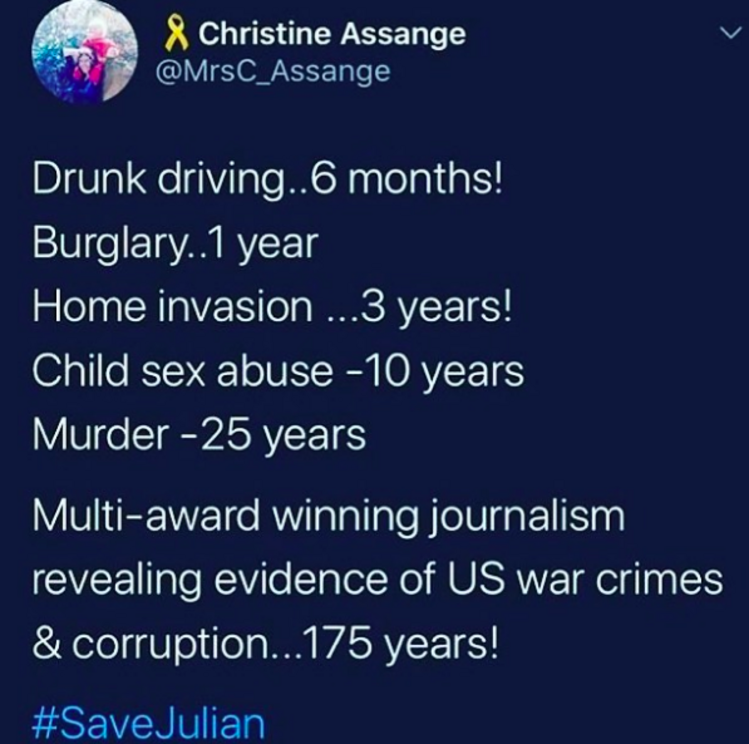 The Takeaway: Do we really live on a planet right now where those who expose truth, expose corporate corruption, and those who want what's best for the world and want to change the world, are locked away, murdered, silenced, censored, and thrown in jail? Furthermore, what time of 'machine' is required to justify his jailing in the minds of the masses? What kind of propaganda tools are used and how powerful are they if they have the ability to completely control human consciousness and perception in a way that best fits their interests?