Israel mandates 'vaccine passes' for gyms, malls, hotels and more – some using facial recognition
In Brief
The Facts:

Israel recently announced that certain places, like concerts, theatres, shopping malls and gyms will only be accessible to people who have been vaccinated and provide a "vaccine pass" that proves they have been.

Reflect On:

Are mandatory vaccine measures justified? Should we give government so much power as to where they can go against the will of so many people? Should freedom of choice really remain? Are unvaccinated people actually a threat to the vaccinated?
What Happened: Israel has recently implemented a new measure that requires citizens who would like to enter into gyms, shopping malls, theaters, swimming pools and hotels to be vaccinated. Once they are vaccinated they receive a "vaccine pass." You get a "green pass" if you have had two doses of the vaccine or if you've had COVID-19 and are presumed to be immune. Some of these places are also using facial recognition technology to confirm the identity of people.
Prime Minister Benjamin Netanyahu tweeted, "We are the first country in the world that is reviving itself thanks to the millions of vaccines we brought in….Vaccinated? Get the Green Pass and get back to life."
Social-distancing and mask wearing mandates are still in place even for those who have been vaccinated. Israel has administered at least one dose of the vaccine to nearly 50 percent of their population. That's almost 4.5 million people, and they are claiming that the risk of illness from COVID-19 has dropped 95.8% among people who have received both shots.
Israel has logged more than 740,000 cases and 5,500 deaths from COVID-19, drawing criticism of Netanyahu's sometimes patchy enforcement of three national lockdowns. The government has pledged that there will not be a fourth. But Nachman Ash, a physician in charge of the country's pandemic response, told Army Radio that another lockdown "is still possible … Half of the population is still not immune."
It's unclear whether or not controversy has surrounded the death count in Israel. For example Ontario (Canada) public health clearly states that deaths will be marked as COVID deaths whether or not it's clear if COVID was the cause or contributed to the death. This means that those who did not die as a result of COVID are included in the death count. You can find the source for that and read more about it here.
Dr. Ngozi Ezike, Director of the Illinois Department of Public Health stated the following during the first wave of the pandemic,
If you were in hospice and had already been given a few weeks to live and then you were also found to have COVID, that would be counted as a COVID death, despite if you died of a clear alternative cause it's still listed as a COVID death. So, everyone who is listed as a COVID death that doesn't mean that was the cause of the death, but they had COVID at the time of death.
These are a few of many examples.
Why This Is Important: Many mainstream media sources, as expected, have picked up on this story. There are quotes from citizens who have been interviewed who support these mandatory vaccine measures, with many expressing that it makes them feel safe and protected. This is obviously understandable, a large portion of people do feel this way, and do feel that vaccines help to protect people and stop the spread of COVID-19. But these are the people that seem to be given a voice within mainstream media. All other opinions, especially if they call into question the effectiveness of the COVID-19 vaccine seem to be instantaneously shut down. Facebook, twitter and Instagram for example, have been quite open about the fact that they do and will ban any accounts who bring to light information that paint vaccines in a negative light.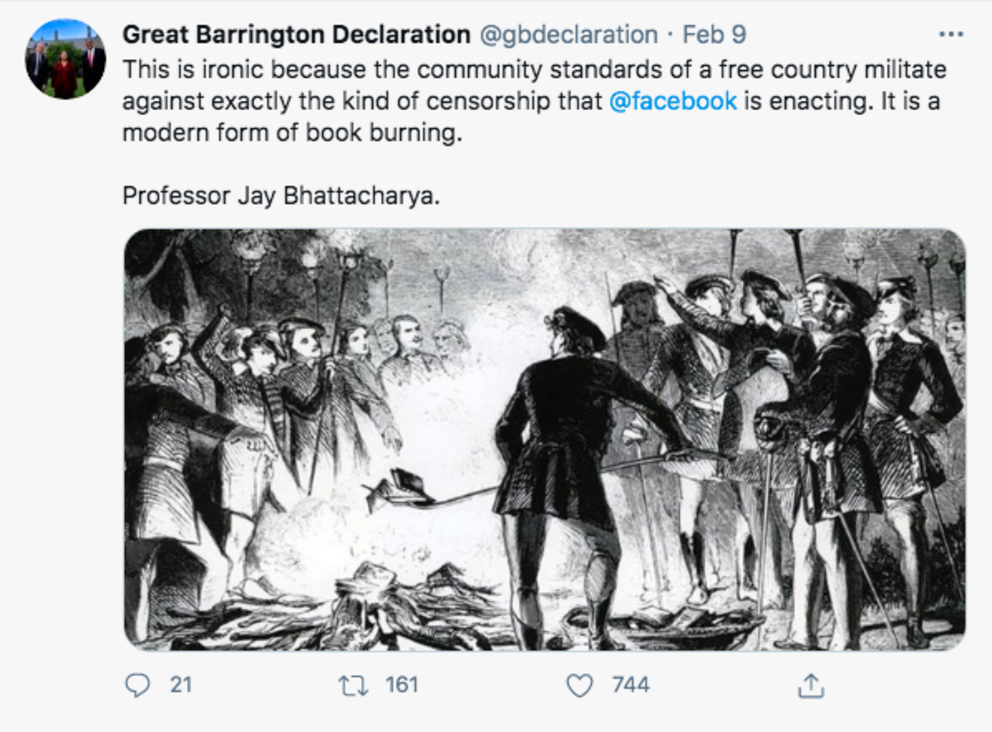 Despite no attention from mainstream media, many in the "alternative" media community are well aware of the growing vaccine hesitancy that exists within multiple countries.
Riverside County, California has a population of approximately 2.4 million, and about 50 percent of healthcare workers in the county are refusing to take the COVID-19 vaccine despite the fact that they have top priority and access to it. At Providence Holy Cross Medical Center in Mission Hills, one in five frontline nurses and doctors have declined the shot. Roughly 20% to 40% of L.A. County's frontline workers who were offered the vaccine did the same, according to county public health officials. According to the L.A. Times, "The vaccine doubts swirling among healthcare workers across the country come as a surprise to researchers, who assumed hospital staff would be among those most in tune with the scientific data backing the vaccines
The "scientific data" as the L.A. Times puts it has also come into question by academicians, scientists and doctors. For example, Dr. Peter Doshi, an associate editor at the British Medical Journal (BMJ) published a piece in the journal issuing a word of caution about the supposed "95% Effective" COVID vaccines from Pfizer and Moderna." In it he outlines how there is no proof showing that the vaccine can and will prevent infection and/or transmission of the virus.
A study recently published in Global Advances In Health & Medicine titled "Ascorbate as Prophylaxis and Therapy for COVID-19—Update From Shanghai and U.S points out,
A recent consensus statement from a group of renowned infectious disease clinicians observed that vaccine programs have proven ill-suited to the fast-changing viruses underlying these illnesses, with efficacy ranging from 19% to 54% in the past few years.
But according to Facebook fact-checker Health Feedback,
In the case of both COVID-19 vaccines, the FDA concluded that they met the necessary criteria for safety and efficacy. Preliminary data from clinical trials indicate that both vaccines have more than 94% efficacy in protecting vaccinated individuals from the disease. Clinical trials are still underway, so estimates of each vaccine's efficacy may change.
A few other papers have raised concerns as well, for example. A study published in October of 2020 in the International Journal of Clinical Practice states:
COVID-19 vaccines designed to elicit neutralising antibodies may sensitise vaccine recipients to more severe disease than if they were not vaccinated. Vaccines for SARS, MERS and RSV have never been approved, and the data generated in the development and testing of these vaccines suggest a serious mechanistic concern: that vaccines designed empirically using the traditional approach (consisting of the unmodified or minimally modified coronavirus viral spike to elicit neutralising antibodies), be they composed of protein, viral vector, DNA or RNA and irrespective of delivery method, may worsen COVID-19 disease via antibody-dependent enhancement (ADE). This risk is sufficiently obscured in clinical trial protocols and consent forms for ongoing COVID-19 vaccine trials that adequate patient comprehension of this risk is unlikely to occur, obviating truly informed consent by subjects in these trials.
In a new research article published in Microbiology & Infectious Diseases, veteran immunologist J. Bart Classen expresses similar concerns and writes that "RNA-based COVID vaccines have the potential to cause more disease than the epidemic of COVID-19."
I'm not going to go into detail here. If you want to read more about growing vaccine hesitancy among, not only people, but doctors and scientists as well and the reasons as to why so many people are hesitant, you can do so in articles I've previously published that go more in depth here, here, and here.
The reason why Israel has implemented these measures, and why many other places in many other countries will most likely follow is based on the theory that if you are vaccinated, you are ultimately protecting others. This is referred to as "herd immunity." In a 2014 analysis in the Oregon Law Review by New York University (NYU) legal scholars Mary Holland and Chase E. Zachary (who also has a Princeton-conferred doctorate in chemistry), the authors claim that 60 years of compulsory vaccine policies "have not attained herd immunity for any childhood disease." This is one of multiple reasons why so many suggest voluntary choice as opposed to vaccine mandates.
It's obviously quite a controversial issue these days.
The point I am making is that freedom of choice, in my opinion, should always remain and if not I feel that is quite immoral and unethical. At the end of the day, mandatory measures are being done in a clever way, because you still do have the freedom of choice in Israel, you just can't enter certain places of business.
The Takeaway: At the end of they day, what seems to be happening is that the mainstream does not do a proper job at addressing controversial issues. When it comes to vaccines specifically, it's not uncommon to hear terms like "anti-vax conspiracy theorist" being used without actually addressing the concerns the are being raised.
I often point to a conference held at the end of 2019 put on by the World Health Organization (WHO). At the conference, Dr. Heidi Larson a Professor of Anthropology and the Risk and Decision Scientist Director at the Vaccine Confidence Project Emphasized this point, that this kind of terminology does not help and needs to be done away with. She also stated,
The other thing that's a trend, and an issue, is not just confidence in providers but confidence of health care providers. We have a very wobbly health professional frontline that is starting to question vaccines and the safety of vaccines. That's a huge problem, because to this day any study I've seen…still, the most trusted person on any study I've seen globally is the health care provider.
When it comes to vaccines specifically, a quote from a paper published in the International Journal for Crime, Justice and Social Democracy by professor Paddy Rawlinson, from Western Sydney University, provides some good insight into what I am referring to.
Critical criminology repeatedly has drawn attention to the state-corporate nexus as a site of corruption and other forms of criminality, a scenario exacerbated by the intensification of neoliberalism in areas such as health. The state-pharmaceutical relationship, which increasingly influences health policy, is no exception. That is especially so when pharmaceutical products such as vaccines, a burgeoning sector of the industry, are mandated in direct violation of the principle of informed consent. Such policies have provoked suspicion and dissent as critics question the integrity of the state-pharma alliance and its impact on vaccine safety. However, rather than encouraging open debate, draconian modes of governance have been implemented to repress and silence any form of criticism, thereby protecting the activities of the state and pharmaceutical industry from independent scrutiny. The article examines this relationship in the context of recent legislation in Australia to intensify its mandatory regime around vaccines. It argues that attempts to undermine freedom of speech, and to systematically excoriate those who criticise or dissent from mandatory vaccine programs, function as a corrupting process and, by extension, serve to provoke the notion that corruption does indeed exist within the state-pharma alliance.
Censorship does not solve any problems. If there's misinformation out there the solution to that, in my opinion, is more discussion and more free speech. Conversations and healthy debates should be occurring more in these times, instead what we are seeing is the shutdown of any opinion, information and evidence that seems to go against the grain.
Many of us are feeling the loss of freedoms, and even with new measures like that which is presented in this article, we are now seeing how our reality may become limited should we choose not to participate in certain measures we don't agree with. The trouble we seem to be having is determining how to communicate about COVID, the fears we have around it, and how to come together as a community to 'draw a line' as to where we may be taking things too far.
Have we given 'authority' figures too much power to the point where they can limit our rights and freedoms if we do not comply? The issue of vaccines is not a black and white one. There are many concerns and issues and as a result of this, freedom of choice, I believe, should always remain. Many people see mandatory vaccine measures as completely unethical, others see them as necessary and justified. At the end of the day, if we keep listening and obeying we continue to place more power in the hands of people and institutions that may not have the best interests of humanity at heart and are more focused on profit, power and control. If there's one thing that's constant throughout history, it's that global issues like COVID, climate change, and terrorism, for example, have all been used for powerful people to capitalize off of in more ways than one.
Do you truly believe that when the first wave, this second wave, the 16th wave of the coronavirus is a long-forgotten memory, that these capabilities will not be kept? That these datasets will not be kept? – Edward Snowden
It's fine if you believe this vaccine is safe, effective and that everybody should take it. It's also find if you believe the opposite, why can't we all just get along without one side forcing the other in order to access certain rights and freedoms?