Assange Ecuadorean citizen but gov't denies him rights
"The fact is that Assange got the Ecuadorian Nationality and the treatment that he must get is the one of a national (Ecuadorean) citizen," expressed Rivadeneira
From the moment Wikileaks' editor Julian Assange was granted the Ecuadorian citizenship, he earned rights that have now been violated, expressed Ramiro Rivadeneira Silva an expert on constitutional law and former Ecuadorean Ombudsman, in an interview during teleSUR's EnClave Politica on teleSUR.
"The fact is that Assange got the Ecuadorian Nationality and the treatment that he must get is the one of a national (Ecuadorean) citizen," expressed Rivadeneira, and added that his access to Internet and external communications rights are being violated by the Ecuadorian government through the embassy in London.
"This a very different situation of the one of a foreigner that ask for Asylum. He has to be guaranteed the same rights as any Ecuadorean and he is not getting them," warned Rivadeneira. First, the Ecuadorean government suspended Assange's internet and phone access in March and then it withdrew his security in May.
On Monday, during an exclusive interview with Colombian broadcaster NTN24, Ecuadorean President Lenin Moreno spoke about the Julian Assange Case. Moreno said he is negotiating with the British government over the release of Wikileaks founder.
"The agreement has to be one that defends Mr. Assange's life, human rights and international norms. If we arrive at an agreement of that sort, we would be delighted to ask Mr. Assange to abandon the embassy and submit himself to the appropriate trial for not appearing before the British courts which is preferable to spending six years locked up in an embassy."
The situation of Julian Assange is different now with the Lenin Moreno government than it was under the government of Rafael Correa which granted him political asylum in 2012. "This case can not be settled just by saying 'he can leave the embassy at any time he wants' (as said President Lenin Moreno)," expressed the expert constitutionalist lawyer, Rivadeneira.
During the Rafael Correa's government, the efforts were focused on transferring Assange to Ecuador, to ensure his life and security. Because, the fact is that "if he exits the embassy his life and his integrity are at risk because the U.S. has an account to settle with Assange after the Wikileaks case," said the former Ombudsman.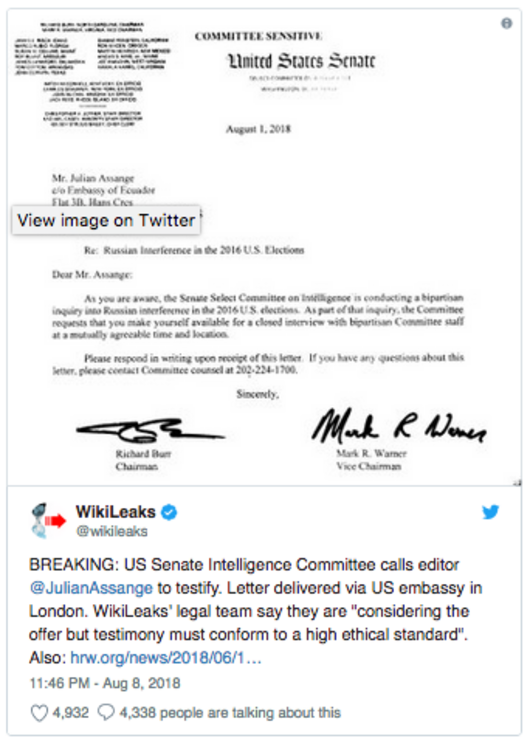 In another development on the Assange case, the U.S. Senate Intelligence Committee summoned the WikiLeaks founder to testify about the alleged Russian interference in the 2016 election, WikiLeaks said Wednesday in a tweet showing the letter, dated Aug. 1, that was delivered to Assange in Ecuador's embassy in London.
Assange is being asked to testify at an agreed upon time and location, to which WikiLeaks' legal team responded that they "are considering the offer but testimony must conform to a high ethical standard."