Thousands of children deceived by liquid nicotine packaged like juice
Federal regulators have warned more than a dozen manufacturers, distributors and retailers that they are endangering children by marketing e-cigarette liquids to resemble kid-friendly products such as juice boxes, candy and whipped cream.
The Food and Drug Administration and the Federal Trade Commission said the packaging of the products -- some of which feature cartoonlike images mislead children into thinking the liquids, which can be highly toxic if swallowed, are actually things they commonly eat and drink.

"E-liquids," as they are called, are typically a mix of nicotine, flavors and other ingredients. Ingesting them can cause nicotine poisoning -- and even death -- for small children, experts say. The government cited a recent analysis that found between January 2012 and 2017 there were more than 8,200 e-cigarette and liquid nicotine exposures among children younger than 6. Regulators accused the vaping industry of tweaking marketing tactics, charging that manufacturers are peddling liquid nicotine in packages that resemble kids' juice boxes, which has led to children chugging the drug.

Penn State College of Medicine researchers previously found that electronic cigarettes produce highly-reactive free radicals -- molecules associated with cell damage and cancer -- and may pose a health risk comparable or worse than conventional cigarettes.




One brand, the Twirly Pop, even comes with a lollipop. Other products, like One Mad Hit Juice Box and Vape Heads Sour Smurf Sauce, look like candy or juice.

"These packages were designed to look exactly like a children's fruit juice product," says tobacco control researcher Michael Siegel, a School of Public Health professor of community health sciences, whose expertise includes advertising's effects on sales of conventional cigarettes.

The government's shot across the bow is the latest bad PR for the vaping industry. Worried about illegal sales to minors, the Food and Drug Administration (FDA) had announced a sting operation to catch retailers--from online sellers to gas stations and convenience stores--peddling what has been dubbed the "iPhone of e-cigs," Juuls, to underage buyers. (Juuls have been brought to school by students nationwide who are lured by their concealability--they emit little flume--and their fruit and other flavoring.)
The agencies told the companies that the products are "misbranded" under the Federal Food, Drug, and Cosmetic Act "because their labeling and/or advertising imitating kid-friendly foods is false or misleading." In joining the FDA, the FTC cited its authority under the Federal Trade Commission Act, which prohibits unfair or deceptive advertising.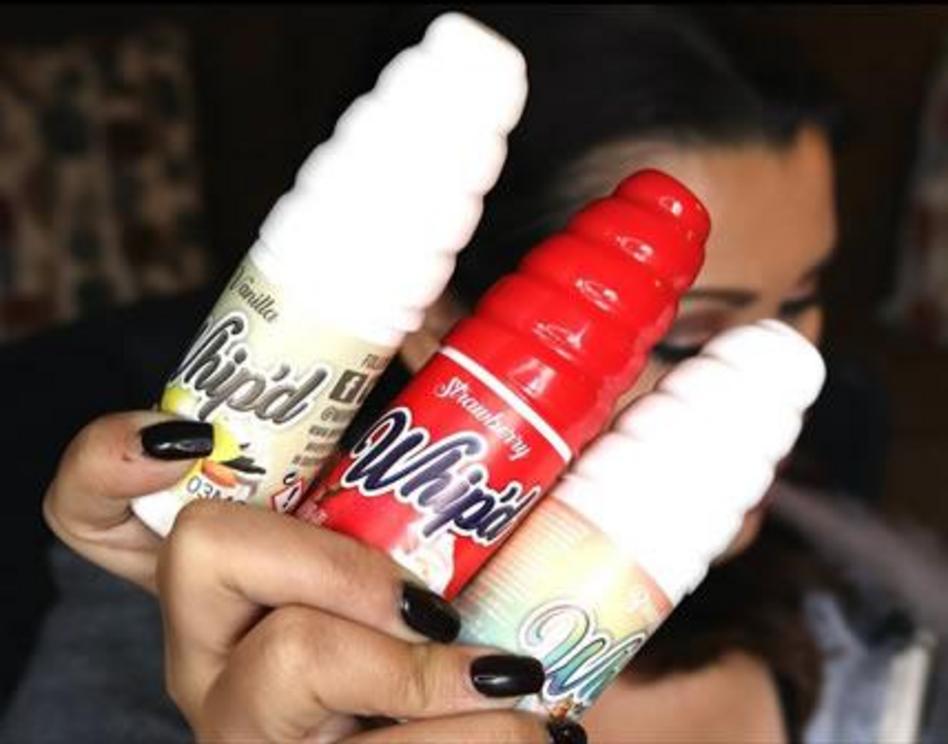 The companies have 15 days to respond on how they will change the labels and packaging of the products. Failure to make changes "may result in further action such as seizure or injunction," the agencies warned.
FDA commissioner Scott Gottlieb, in a telephone briefing with reporters, said that it would be hard for "any reasonable person" to examine the products and not conclude that "they are deliberately being packaged and marketed in a way that is designed to not only be appealing to kids" but also to confuse them by mimicking items they frequently consume.
Greg Conley, president of the consumer group American Vaping Association, said he didn't have a lot of sympathy for companies that "rip off the trademark of an existing product," referring to packaging that resembled children's drinks and snacks. "That's not responsible marketing," he added.

Juul e-cigarettes resemble a USB flash drive but contain high levels of nicotine. They come in such flavors as mango, creme brulee and cool mint, and their emissions can be virtually invisible, making it difficult for teachers to spot and stop use of the product.

Gottlieb said the 13 warning letters were part of the FDA's new Youth Tobacco Prevention Plan. Last week, the agency announced a nationwide undercover "blitz" to crack down on the sale of e-cigarettes -- particularly the hugely popular Juul products -- to children and teenagers by regular and online retailers. The agency said it had uncovered dozens of violations of the law and issued 40 warning letters related to Juul e-cigarettes.