The WHO cover-up that is costing us the Earth
The facts about wireless radiation have been very skillfully downplayed and covered up, causing many people to believe it's not a problem—largely because of the World Health Organization (WHO). In this video, former WHO employee, Olga Sheean, exposes WHO's cover-up of the truth about wireless radiation—from WiFi, cell towers, cell phones, smart meters and other wireless devices. She explains how WHO's EMF Project has been influenced, corrupted, staffed and funded by the very industry from which it is meant to protect us. There is also a 28-page supporting document with additional information about health effects, 5G and the Internet of Things, as well as resources, references and practical suggestions for halting the technological take-over of our lives.
You can watch the video on Olga's website (https://www.emfoff.com/cover-up/), where you can also instantly download the document and share the link with others.

Let's inspire people to wake up to the truth, to hold decision-makers accountable for their negligence, and to make 'smarter-than-smart' choices in our own lives.

Those at the top are few and we are many, so our collective choices make a huge impact. If we even simply trade our smart phones for basic flip phones (for calls/texts only), the whole 5G infrastructure of invasive surveillance and data-gathering will collapse.

Before technology took over, the Earth already had things masterfully orchestrated so we could live healthy, fulfilling lives, while benefitting from the delicate balance of its life-giving electromagnetic frequencies, beauty and precious natural resources.

Let's bring ourselves and our planet back to life.

Olga
...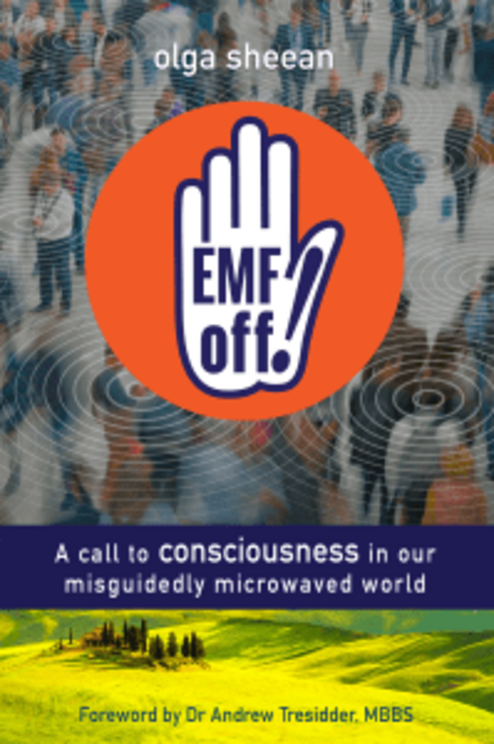 "A must-read, if ever there was one!"
​A wireless wake-up call, with a message for all of humanity
​Radiation from wireless technologies now spans the globe, affecting all forms of life. The resulting electromagnetic fields (EMFs) are causing epidemics of illness, addictions and disorders that often fail to be attributed to the true underlying cause.
With humour, insights and discoveries from the forefront of modern science, this book tells a profoundly personal story, revealing the deeper truth about our love affair with technology, why governments are hiding the facts, and how neuroplasticity and quantum physics are transforming our perception of reality and our capacity to transform our personal and planetary health.
Inspiration for creating a better world
"Olga Sheean's book is a wake-up call for us all. Beautifully written, it describes her own severe health effects from EMFs, as well as the science on electromagnetic radiation, while providing hope and inspiration for creating a better world. May everyone who cares about health, the environment and our common future on this planet read this book and become part of the growing web of consciousness."
—Mona Nilsson environmental journalist, founder/chair of Swedish Radiation Protection Foundation, and author of Health Risks from Wireless Technology
"Powerful, raw, amusing, inspiring and empowering. Olga is a true warrior—a peaceful one. This book boldly, and rightly, situates EMFs in the context of consciousness and spirituality. Of all the books I've read on EMFs, this one's my favorite."
—Lloyd Burrell author of Beating Electrical Sensitivity and founder of ElectricSense.com
​Buy EMF off!