US opens 'biggest overseas base' in South Korea
... amid North Korea talks
US forces in South Korea have opened their "biggest overseas base", just weeks after President Donald Trump said he wanted to bring the troops home.
Camp Humphreys straddles an area of over 14.5 million square meters. It's in Pyeongtaek around 70 kilometers south of Seoul.
The two allies agreed as long ago as 1990 to relocate the previous headquarters to Camp Humphreys, but the project was delayed for years by resident protests.
The relocation project was revived following an agreement back in May 2003.
The commander of US Forces Korea, Vincent K. Brooks, said South Korea had shouldered nearly all the cost of building the military base
"This was a project that cost nearly $10.8 billion to build over 10 years and the Republic of Korea investment was over 90 percent of the cost," Brooks said in a ceremony at the new base on Friday.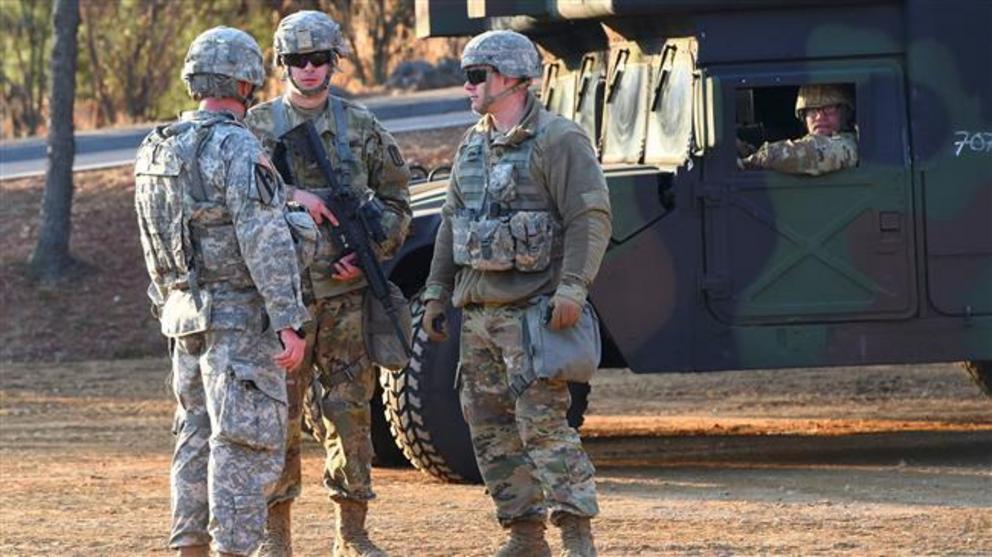 US soldiers stand guard during a joint medical evacuation exercise as part of the annual massive military exercises at a South Korean Army hospital in Goyang, northwest of the capital Seoul on March 14, 2017. (Photo by AFP)
"For that 90 percent, the United States remains with you 100 percent," he added.
US President Donald Trump has long called on US allies, since before assuming office, that they should pay more of the expenses needed for the US military expenses in the host county.
The opening of the new US South Korea headquarters comes just weeks after Trump said he wanted to pull out American forces from South Korea.
The US has 28,500 troops stationed in the South and the two countries are currently in talks over how to share the costs of keeping the US troops in South Korea starting 2019.
Camp Humphreys incorporates a total of 513 buildings and will accommodate 43,000 people including soldiers and their family members by the end of 2022.
The headquarters building represented "a significant investment in the long-term presence of the US forces in Korea," Brooks said, adding it "will remain the living proof of the American commitment to the alliance."
South Korea's Defense Minister Song Young-moo said the base would embrace a new role as circumstances shifted "from Cold War confrontation to peaceful co-existence."
The move comes only weeks after Trump and Pyongyang's leader Kim Jong-un had an unprecedented summit in Singapore. The US president said afterwards that he would suspend joint military exercises with the South.
Pentagon chief James Mattis, however, said Friday that the United States and its regional allies will maintain a "strong collaborative defensive stance" on North Korea.
Mattis made the remarks during a meeting with Japan's Defense Minister Itsunori Onodera in Tokyo which was taken aback by Trump's decision to halt "expensive" military exercises in the region.
The Pentagon chief reaffirmed the US goal of dismantling North Korea's nuclear and ballistic missile programs. He said the US-Japan alliance "stands firm" and undiminished by US-North Korea talks.
"We're in the midst of very unprecedented negotiations right now with North Korea. But in this dynamic time, the longstanding alliance between Japan and the United States stands firm," Mattis said.
The North has not made any public pledge to give up its weapons, despite US claims about Pyongyang's denuclearization.
Japanese Foreign Affairs Minister Taro Kono said Friday the US and Japan needed to "keep our relations tight," noting that sanctions on North Korea remain in place until all of its weapons of mass destruction are eliminated along with its ballistic missiles.
Japan hosts some 50,000 US military personnel, including the biggest overseas concentration of US Marines and a US Navy carrier strike group.
Mattis was on the last stop of a week-long trip to Asia, during which he assured the South Korean government of an "ironclad" commitment to its security, including keeping US troop levels
there of around 28,500 soldiers.