"All hell's gonna break loose!" in Georgia
- two voter organizations have video footage of 240 people allegedly dropping ballots from filled backpacks into drop boxes in GA
Earlier this morning, radio host John Fredericks appeared on Steve Bannon's War Room where he dropped a bombshell.
"What we uncovered is about to break in Georgia..all hell is about to break loose!"Fredericks told Bannon. He explained how two voter integrity groups, OpSec and True the Vote are in possession of incredible video footage showing a massive ballot harvesting scheme in the state where Trump lost by less than 10,000 votes.
"There is coming video where there are basically 240 what I'm gonna call 'ballot traffickers' in Georgia," he said. He explained how what looks like a massive voter fraud scheme worked, "What they did is, that they went around to drop boxes all over the state, with each of them averaging about 24 drop boxes each. What they would do is, they would go there in the middle of the night—this is all on video– and they would empty backpacks with gloves on, full of ballots into these drop boxes!"
"This is totally illegal," he explained, adding that even Stacey [Abrams] law was written, "states that only one person can drop one vote into the ballot drop boxes."
Trending: Anti-Biden Chant at College Football Games Goes Viral [Video]
Fredericks asks "Why hasn't Secretary of State Raffensperger investigated this yet?"
Well, it looks like that is about to happen. According to Heather Mullins of Real America's Voice, GA SOS Raffensperger filed a FOIA request yesterday seeking communication between the DOJ, and different groups including those tied to Stacey Abrams, the Southern Poverty Law Center, Common Cause and Campaign Legal Center challenging SB2020, the Stacey Abrams bill, mentioned by John Fredericks in the video above.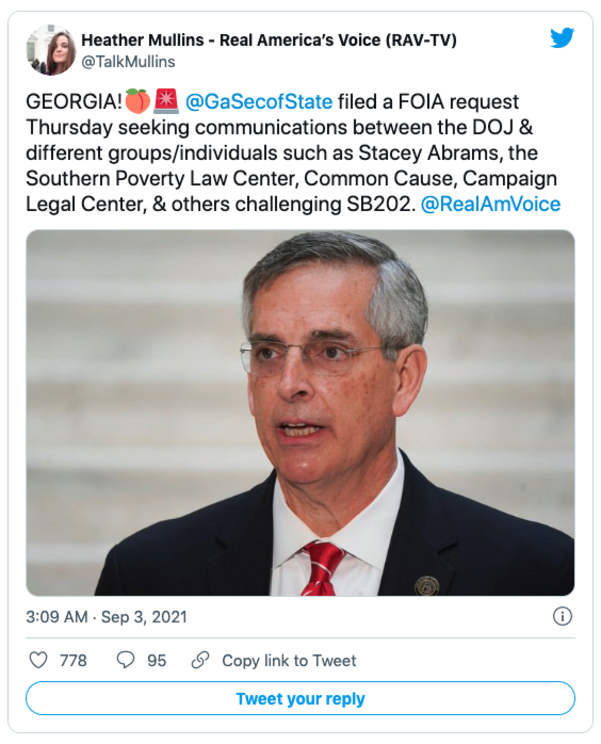 Gateway Pundit was first to report on this bombshell development.
On August 24, Breitbart's Matthew Boyle reported about a document by True the Vote, one of the organizations that Fredericks mentions, which is involved in the investigation that allegedly includes videotaped evidence of massive ballot harvesting in GA.
The document says that True The Vote has spent the last several months since late last year collecting more than 27 terabytes of geospatial and temporal data—a total of 10 trillion cell phone pings—between Oct. 1 and Nov. 6 in targeted areas in Georgia, Arizona, Michigan, Wisconsin, Pennsylvania, and Texas. The data includes geofenced points of interest like ballot drop box locations, as well as UPS stores and select government, commercial, and non-governmental organization (NGO) facilities.
"From this, we have thus far developed precise patterns of life for 242 suspected ballot traffickers in Georgia and 202 traffickers in Arizona," True The Vote's document says. "According to the data, each trafficker went to an average of 23 ballot dropboxes."
In other words, what the document says is that True The Vote was able to take cell phone ping data on a mass wide-scale and piece together that several people—suspected ballot harvesters—were making multiple trips to multiple drop boxes, raising potential legal questions in a number of these states.
From there, the document continues, True The Vote gathered surveillance video on the drop boxes in Georgia and is attempting to gather similar such surveillance video from other states. The document states that True The Vote has obtained one full petabyte of surveillance footage on drop boxes—two million minutes of video—which it says is broken into 73,000 individual video files. The group is expected to begin releasing some of these videos, which purportedly show the same people going multiple times to the same drop boxes, in the coming weeks.
"We are building out video stories and have compiled videos of individuals stuffing ballot dropboxes with stacks of ballots, individuals depositing ballots in multiple dropboxes, unauthorized coordination between government workers engaged in the exchange of ballots, and several other tranches of video that capture unusual patterns such as the wearing of gloves to deposit ballots, taking pictures of ballot deposits, etc.," True The Vote's document says.
As for states other than Georgia, True The Vote's document says that the status of such surveillance video is as of now unclear. "Video availability in other states is undetermined; open records requests submitted consistently since January continue to be met with conflicting communications and stalls," True The Vote's document says.
The group says also that it has at least three teams of analysts combing through the raw data and the surveillance video seeking out individual stories and other trends, and that it has been in contact with federal and state law enforcement in various states on what it has found and determined already.