Mother and daughter report sighting of red-eyed, winged 'demon' in Schiller Park, Illinois
Manuel Navarette of UFO Clearinghouse received a report recently from a woman who said that she and her mother witnessed a "demon" with "red eyes and very large wings" at around 9 pm on October 26th in Schiller Park, Illinois—a village on the outskirts of Chicago's metropolitan area.
According to the initial report received by Navarette,
I had gone to the kitchen to make myself a cup of tea, and as I was filling the kettle with water I heard my mom scream and then call out to me. I dropped what I was doing and ran to her and found her in her room with the lights off. She told me to keep the lights off and to come to the window and look out into the backyard.
I looked and saw a large creature with red eyes and very large wings perched on the back fence. My mother was whispering "Es un demonio*," and started praying as we watched this thing. It was perched on the fence and it was looking side to side and kept slowly moving its wings. We looked at it for about a minute before it flapped its wings and flew off.
*It's a demon.
The initial report came from a 32-year-old Hispanic woman, who witnessed the creature alongside her 67-year-old mother.
Navarette said that he was able to speak with both witnesses the Wednesday following their sighting.
He confirmed the approximate time of their sighting, along with the details originally submitted in the report.
The woman had been in the kitchen making herself tea when she heard her mother scream, prompting her to "drop what she was doing and run toward her mother's bedroom."
"The witness indicated that her mother has fallen before and injured herself, and that is what she thought had just occurred," said Navarette.
"Upon entering her mother's room, she found the lights off and her mother standing by the window," he continued. "The mother told her to keep the lights off and to come to the window and look out into the backyard. The witness did as she asked and upon reaching the window saw what she described as a large humanoid creature perched upon the back fence. She described the creature as black with large, jet-black wings and human-like features. When I asked her to go into detail, she said that the creature looked like what she could only describe as a demon. The creature had human-like arms and legs and its head looked almost human with bright red eyes. When I pressed for more detail, she advised that it was dark and she was about 25 feet away from where it was perched. She described the creature as looking around and that it was slowly moving its outstretched wings back and forth."
Navarette added that the witness told him she had "observed the entity for about a minute before it flapped its wings and flew up and out of sight," and that "when asked if she had grabbed her phone to take a picture, she said her phone was in her room and she did not think of going and grabbing it and that she was not going to leave her mother alone."
The woman's mother was at first hesitant to speak with him, but Navarette said she agreed after receiving "assurances that I would not publish her name or address."
The older woman spoke only in Spanish, said Navarette, and told him that "she was getting ready for bed when she looked out the window and saw the creature perched on the back fence."
"She said she was scared and called out to her daughter to come and then started to pray," he explained. "The witness was convinced that she was seeing a demon that had come to her house and prayed for protection."
She described the creature's shape and posture as similar to the "depiction of a demon being struck down by Saint Michael, except this one was solid black and with red eyes. "
Navarette said the woman went on to say that "she was very uncomfortable with speaking about it for fear of the entity returning and that she felt that this creature was on a mission, one that was evil in nature—but she would not expound any further. "
"She did mention that there were people in the neighborhood that she knew practiced Brujeria and that this thing might have something to do with it," he added.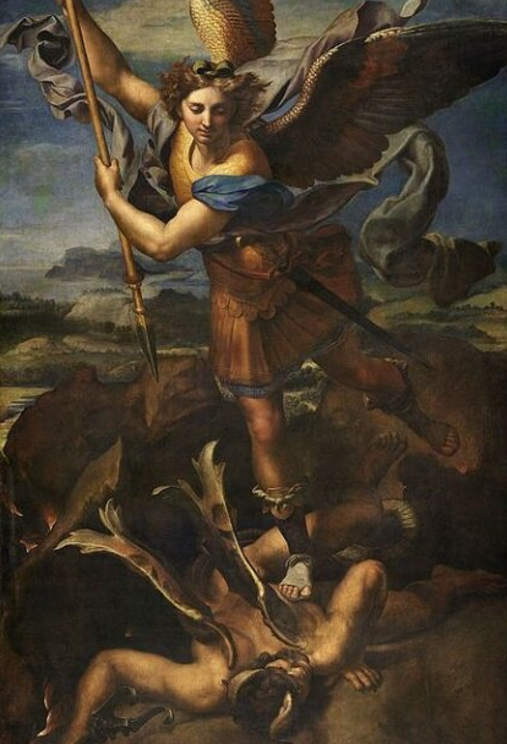 An image of St. Michael vanquishing a demon as imagined by Renaissance-era Italian painter Raffaello Sanzio da Urbino.
Schiller Park borders O'Hare International Airport to the southeast, an area which has been the epicenter of recent winged humanoid sightings in the Lake Michigan Mothman investigation, with at least 10 sightings coming from the airport itself since August of 2019, and many more reported in the surrounding communities.
Other witnesses in and around the same area have similarly reported feeling a sense of evil during their sightings, including a trucker who said he was standing outside of a cargo dock at O'Hare when he spotted a seven-foot-tall "person with wings" just outside of a fence by the parking lot on November 26th, 2019; a cargo company employee who said that he'd seen a red-eyed, winged humanoid while driving near O'Hare on the night of December 6th, 2019; and two women who said they encountered a "huge owl" with "glowing red eyes that looked like [they] belonged to the devil himself" near a parking lot at O'Hare on June 30th, 2020.
This report constitutes the latest news in a string of 'Mothman' sightings from within a few hundred mile radius surrounding Lake Michigan, including every state bordering the great lake. These sightings ostensibly began in the spring of 2017, but more historical accounts are being reported as more people become aware of the phenomenon. They generally take place in the evening or at night, often in or near a park or natural area, and around water. Witnesses consistently describe a large, gray or black, bat or bird-like creature—although in a small number of cases the creature was described as insect-like—sometimes with glowing or reflective red, yellow, green, or orange eyes, and humanoid features such as arms and legs are often reported. Some witnesses have reported feeling intense fear and an aura of evil emanating from the creature they encountered. Many of the sightings are also of something seen only briefly or are described only as a flying creature with few details, which leaves open the possibility that a misidentified large bird—such as a heron or crane—or some type of anomalous avian species could explain some, although certainly not all, of the encounters. A number of associated high strangeness incidents have also occurred alongside the creature sightings; these include reports of UFOs, other anomalous flying creatures and mysterious humanoids, parapsychological phenomena, and bizarre events experienced by those investigating the sightings.
To report a sighting reach out to us directly at the Singular Fortean Society through our contact page.
You can view a timeline of the sightings so far here.
To report your own encounter with the impossible, reach out to us directly at the Singular Fortean Society through our contact page.
If you enjoyed this article and would like to support the Singular Fortean Society, please consider becoming an official member by signing up through our Patreon page—membership includes a ton of extra content and behind-the-scenes access to the Society's inner workings.